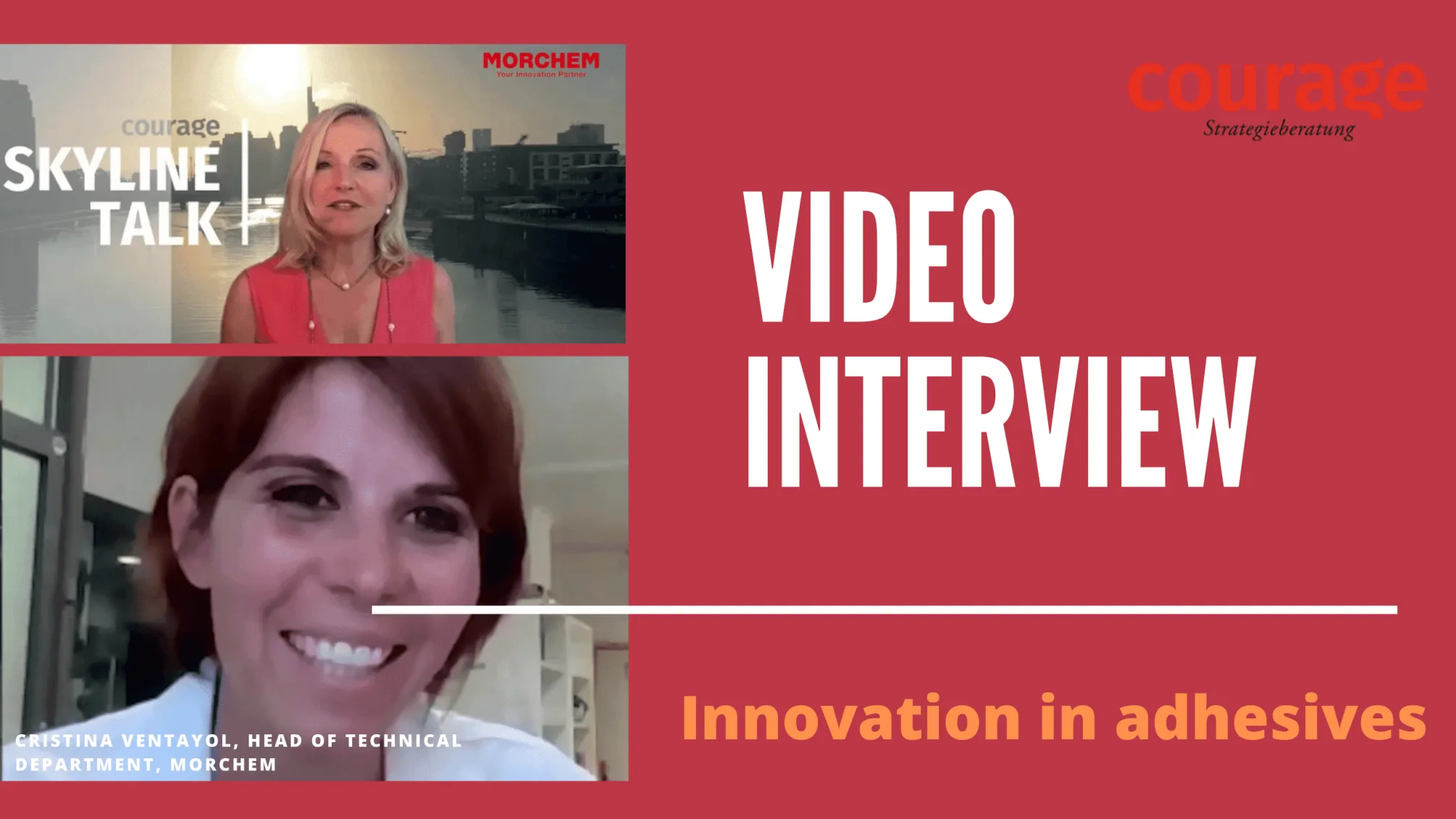 VIDEO-Interview with Cristina Ventayol, Head of the technical department at MORCHEM.
MORCHEM is a global leader for the production of adhesives for flexible packaging. See also the interview with the CEO of MORCHEM – Helmut Schaeidt-Murga – on the latest innovations by MORCHEM, also on this channel.
—————-
3 Questions to Cristina Ventayol on the overall challenges of the chemical industry, the philosophy of MORCHEM in terms of innovation, sustainability and circular economy. And finally, the importance of diversity at MORCHEM.
INTERVIEW
1. MORCHEM is a successful adhesives company. In the last two decades, though, people have realized that chemistry overall can also hurt our health and the environment. a. What is MORCHEMS philosophy in this regard? b. Where do you see areas for improvement, particularly as a chemist yourself?
???? MORCHEMs philosophy is to do what we do with responsibility and to pursue excellence. Maybe 20 years ago, the focus was more on the performance of the adhesive. But in the last decade we are not only offering adhesives that perform, our adhesives are also safe as we are very aware, that our adhesives will be included in a packaging together with food that we eat. Or as part of a fabric, eg. in cosmetics, that will contact with our skin. That is why all our adhesives are in compliance with the applicable regulations . I like to say what that at the end of the day we and our families are consumers as well and that why MORCHEM works towards safe adhesives. Talking about the environment… Flexible packaging is by far more sustainable than rigid packaging of plastic, metal or glass, because it is lighter (lower foot carbon print foot) . In regards to our portfolio, we have adhesives, consisting of raw materials from renewable sources , also solvent based adhesives with high content of solids in order to reduce the VOCs emission. We also offer the unique solvent based compostable adhesive and as well as different solutions for the recyclability of the plastic packaging like the "debond on demand" technology called Morcycling. Chemistry might have a bad image, but I am convinced that chemistry allows progress and even more important, by using chemistry in the right way, we can improve the current environmental challenges.
2. How does MORCHEM stand out in terms of Circular Economy? Let's take the current model of the plastics economy: after usage, plastic becomes waste.
At MORCHEM we are aware that this is not sustainable and we are committed to change this dynamic by investing in circular economy projects. We offer "greener solutions" to our clients such as our compostable laminating adhesive, and coatings and adhesives for monomaterial packages allowing mechanical recyclable packages But what we are really commit is one of MORCHEMs most innovative project : a complete new technology of delamination on demand called " MORCYCLING" and the adhesive for it "MORCYCLE". The MORCYCYING technology will allows us to delaminate the multilayer packing after being used with the objective to separate the different layers of such package and recycle them in an effective way. That is an ambitious project because it is not only a new adhesive it is also a complete new recycling technology.
3. You are heading the global R&D Technical department ( includes R&D , Tech Service, Quality &Regulatory) of MORCHEM as a woman. Sorry to say but technical positions are mostly still taken by men. How does MORCHEM deal with diversity?
I have to say that in this regard, that Spain is showing better numbers than Germany; In Spain female scientist and engineers are over 50% whereas Germany stands in 35%- 40%. In terms of Managing positions or senior executives Spain shows as well a women ratio slightly higher than in Germany. ( Note. Info taken from the Eurostat . In case of female board members Germany is higher but I haven't mention it … ) MORCHEM as an example ; the whole Technical Department is headed by me , but the main technical areas like R&D, Quality and Application labs are also managed by women! Giving some numbers ; in MORCHEM Technical Department, we are more than 20 ( 24 being accurate ) ( chemists , engineers and technicians) and 12 of us are women . Exactly 50%! This is not done in purpose, this is just a reality, as in MORCHEM we promote the best professionals no matter the gender is.